Step 1: Download the C# examples
The translation demo allows you to read and write all transactions for X12 004010, HIPAA 5010, and EDIFACT D96A. Validation is applicable only to the full templates included in the examples solutions for HIPAA 5010 837P, X12 004010 850 & 810, EDIFACT D96A INVOIC & ORDERS. If you need to evaluate with an EDI template for a transaction or version that is not included in the demo, please contact us at support@edifabric.com
---
Step 2: Open EdiFabric.Translator.Demo/EdiFabric.Translate.sln in Visual Studio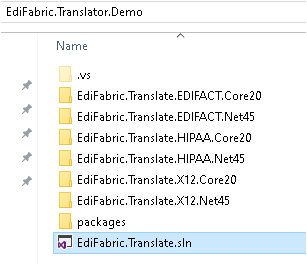 ---
Step 3: Set the project for your EDI standard (X12, EDIFACT, HIPAA) and .NET target (Framework or Core) to be the Startup project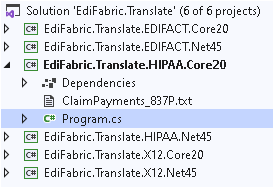 ---
Step 4: Open Program.cs and change the "Path\File" in the reader to point to your file.

---
Step 5: Translate the EDI file
Add a breakpoint and run the console app in debug mode to inspect ediItems

---
Wrapping up
EDI .NET Tools is a software library that allows .NET developers to translate, generate, validate, acknowledge, split, customize, or generally to manipulate EDI documents. It is written in C#, supports both .NET Framework and .NET Core, and is distributed as NuGet package (or DLLs), and C# files for the EDI templates.
All standard EDI transactions (X12, EDIFACT, etc.) and segments are represented as C# POCOs by annotating the classes with our set of EDI attributes and are referred to as EDI templates. Each EDI transaction, therefore, needs to have a corresponding EDI template that the EDI engine knows how to work with.
NOTE: EDI .NET Tools does not provide any communication components (AS2 or SFTP for example), has no dashboard or UI, and is not a full end-to-end EDI solution. The library deals with manipulation of EDI documents, assuming that the latter is available.
The premise of the product is to serve as an adapter for EDI documents and to provide seamless integration of EDI flows into any .NET solution, regardless of the EDI document's format, size or quality of data.
---
Try all the features of EDI .NET Tools
Download a working Visual Studio solution and start exploring real usage code examples:
Learn EDI .NET Tools
Learn about EDI