Translate EDI files in the browser
Web EDI Translator is an online EDI files editor, translator, and validator.
With Web EDI Translator you can do the following, directly in your browser:
Upload EDI files and translate them to JSON. EDI files are automatically expanded, one segment per line
Validate the JSON representation of an EDI file according to the rules of the standard (X12, EDIFACT, etc.)
Highlight and overlay any validation/translation issues at the exact EDI segment
Edit the EDI file or the JSON, to create your own EDI file
Translate the JSON back to an EDI file
Generate 997, 999, TA1, or CONTRL acknowledgment
It's a lightweight HTML and JavaScript web application built on top of our EDI API.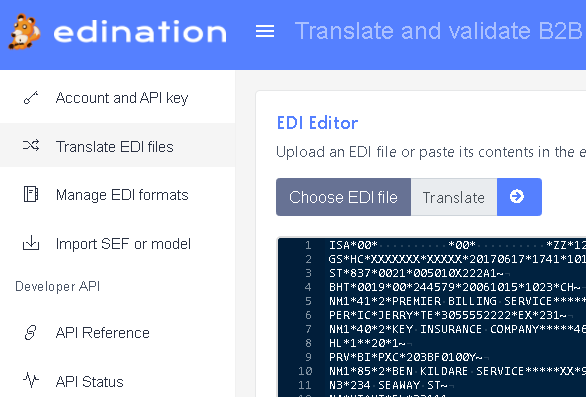 Web EDI Translator can translate up to 3 EDI files a day without an account. This is for demonstration only. In order to use it frequently, you need to create a free account.
Settings
EDI API provides a richer set of configuration options than Web EDI Translator.
To open the settings menu click on the wrench button in the top-right corner.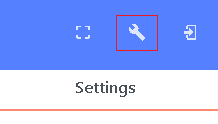 The following settings can be configured in Web EDI Translator:
Read model

This is the identifier of the model to be used when translating EDI transactions to JSON. By default, the API will identify the model from the contents of the file and will try to load a corresponding model automatically. This value overrides this logic and used the specified model instead.

Default

With value

More information for Transaction Models

You can use the refresh button to pull a list of custom models, however, this will be counted towards your API calls.

Syntax Set

All data elements with alpha (A) or alphanumeric (AN) data types are validated against a syntax set of allowed characters. The default syntax set varies between standards and is either inferred from the file contents (EDIFACT would look into the UNB segment) or is statically set (X12 to use the Extended syntax set by default).

This value overrides any existing sets and needs to list out every symbol/character, URL-encoded, which is allowed, without any spaces/delimiters between the characters.

More information for X12 files validation

Ignore null values

Whether to ignore null values in the JSON response or not. True by default.

EDI Editor theme

Sets the theme of the EDI editor. Cobalt by default.

JSON Editor theme

Sets the theme of the JSON editor. Eclipse by default.
Web EDI Tutorials
To learn more about how to translate and validate EDI files with Web EDI try these tutorials: