EdiFabric is a single NuGet package. The current version is EdiFabric.10.0.0.nupkg, and the current trial is EdiFabric.Trial.10.0.0.nupkg. The trial and the paid version are different packages and the trial has "Trial" just after "EdiFabric".
---
Download
Paid version

Download and unzip EdiFabric, after you purchased it. The following file should be available:

EdiFabric.X.X.X.nupkg (the paid version), in folder EdiFabric.Enterprise or EdiFabric.Professional

Free Trial
---
Add EdiFabric NuGet to a Package Source in Visual Studio
SKIP FOR TRIAL:
Ensure that nuget.org is available as a package source and is not disabled. Skip the rest of this step.
Before you are able to install the EdiFabric NuGet package in Visual Studio projects, you need to either add it to your existing NuGet package source or create a new one.
More details on installing NuGet packages in MSDN
Create a new package source:
From the top menu in Visual Studio go to: Tools -> NuGet Package Manager -> Package Manager Settings -> Package Sources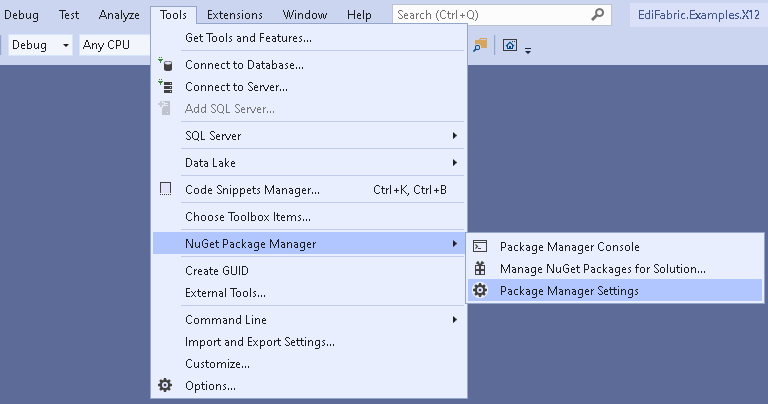 Add a new package source (by clicking the green plus button), change the default name, and browse to select the package folder as the Source.
Select EdiFabric.Enterprise or EdiFabric.Professional folder for EdiFabric.nupkg, then click the Update button to apply the changes and finally click OK to close the dialog.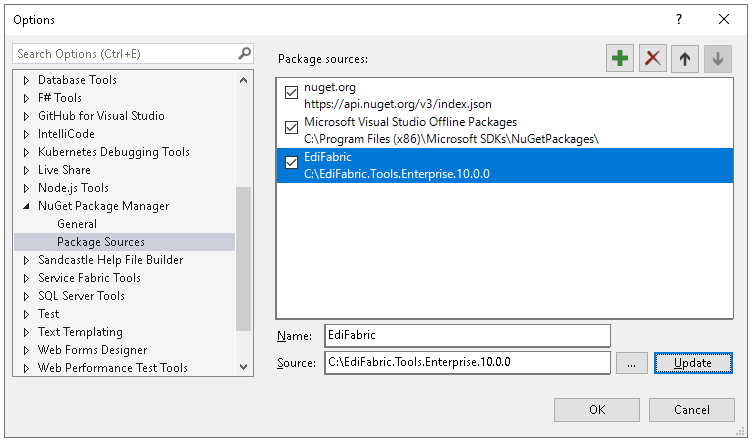 ---
Install EdiFabric to a Project in Visual Studio
Once the NuGet package is available in the package source, you can install it to a project.
Right-click the project name and select Manage NuGet Packages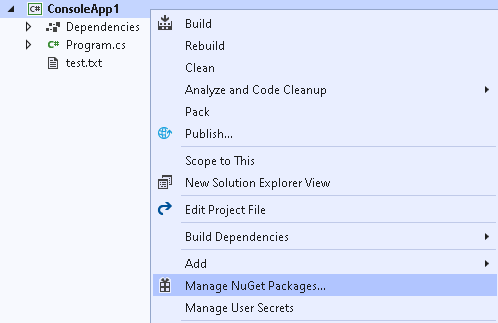 For the trial version:
Select the nuget.org Package Source

Search for EdiFabric
Then select EdiFabric.Trial package and click Install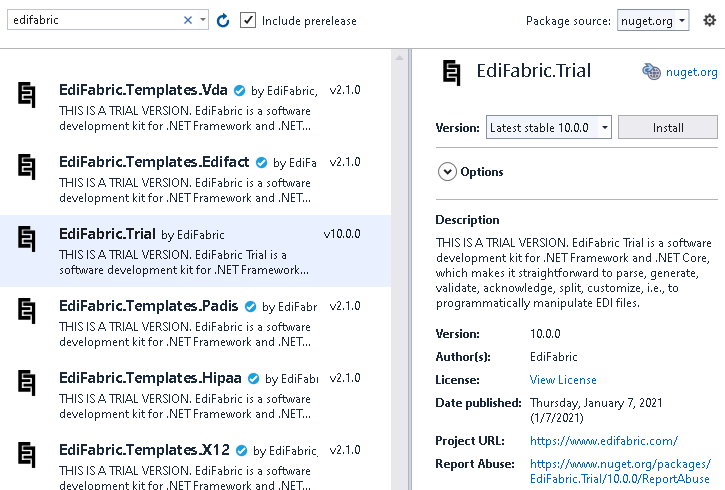 To install from the Package Manager Console:
Install-Package EdiFabric.Trial
NOTE:
It is possible to also manually reference DLLs instead of the NuGet package. Download and unzip the Trial. Then go the the "DLLs" folder and reference the DLL that matches your .NET version.
For the paid version:
Select EdiFabric Package Source (see the previous step)

Then select EdiFabric package and click Install